Each of our songs goes through multiple incarnations before we end up with a final version that we both agree on. This writing process has developed over many years of working together, as we learn the best ways to communicate and give feedback, and never compromise for something less than our best writing. Of course, this process can often be fraught and frustrating with each of us fighting to defend the reasons why we love or hate a certain lyric or melody.
The first track on Ballads for Trying Times, "Nights & Weekends," started in a very different place than where it ended up. It started with Rachel having an idea about the subject matter for the song, which was born out of a fear that all of the work and sacrifice we put into our music would eventually go unnoticed. We were hitting a series roadblocks in our music which caused us to question and doubt ourselves.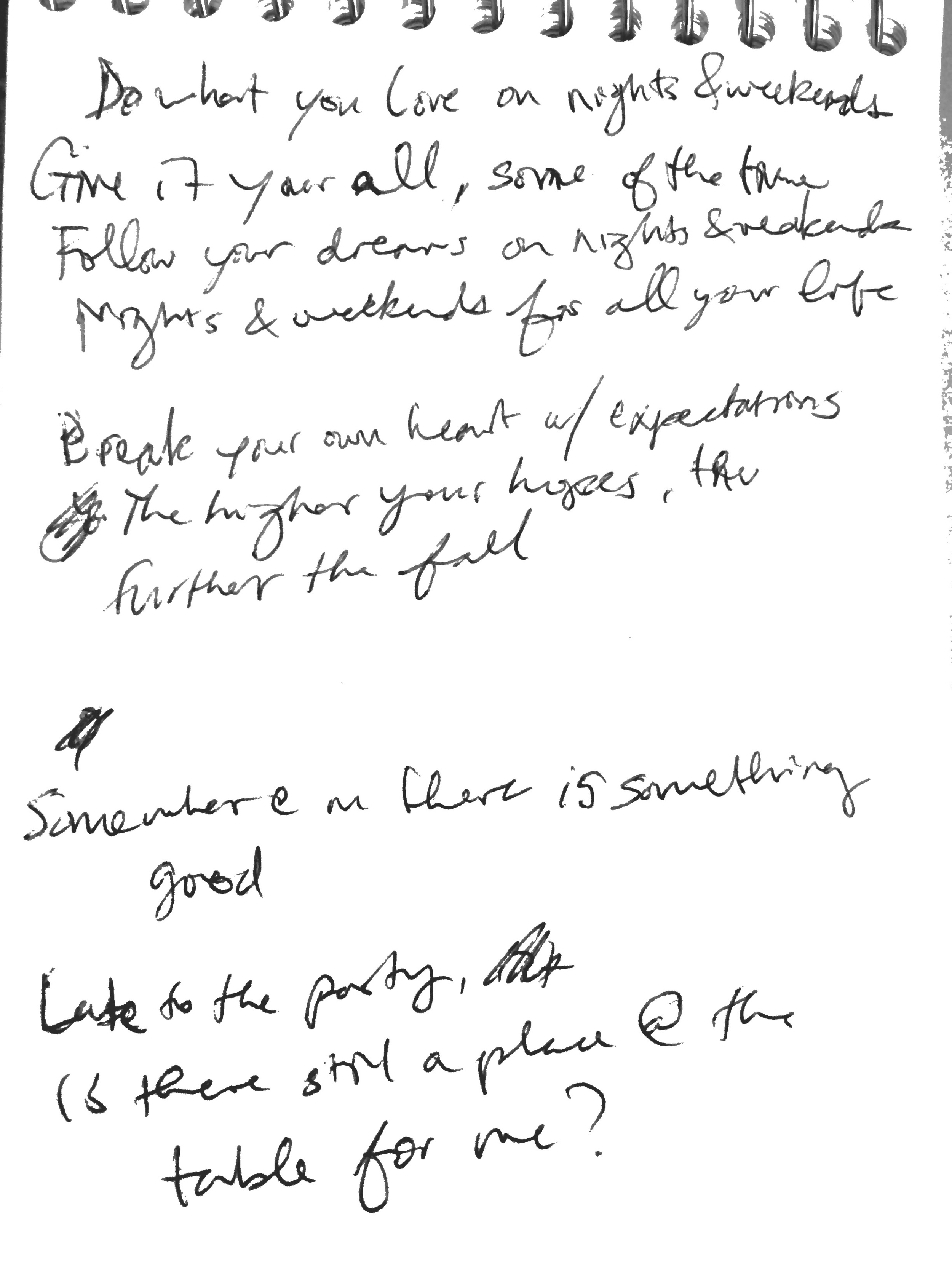 The first draft of this song was written in this minor key with a foreboding chromatic walk-down, based on a guitar riff. That, along with the dirge-like tempo, gave the song's lyrics about the disparity between artistic pursuit and practical adulthood a feeling of a long and tedious slog - familiar to anyone who has had to live their artistic passions on a part-time basis.
After Rachel heard this minor-key demo, she said, "The lyrics are good, but the melody is not quite right. This song sounds like it should be a prayer. We should re-write it as a gospel song." So we reworked the song in the style of a spiritual or hymn, in a major key, which gave the song a yearning and hope that more accurately reflects the plea of the lyrics. In musical theater, they often talk about "the need to sing," as in a character's motivation to break into song - when speaking will no longer suffice. Oftentimes, this reason comes down to persuasion, lamentation or, like in the case of "Nights & Weekends," prayer. As in, calling out into the void in the hopes that there is some greater force at work on your behalf. What originally was a song about desperation, revealed itself to be a song about hope in the face cynicism.
We always love hearing and reading about different artists' writing processes (a la Song Exploder, one of our favorite podcasts), so we wanted share ours with you. We hope you enjoy it! Here's the final song we ended up with: